Channel Daily News has just published the CDN Top 100 Canadian Solution Providers Benchmark Report 2019, sponsored by Dropsuite. Here is a quick summary of the report and a few of the topline findings.
In 2018, technology's already-breakneck pace somehow picked up the tempo again. We saw the first $1 billion revenue years from the luminaries at the pinnacle of the CDN Top 100 Solution Providers list. The fact that it wasn't just one firm that broke through that cloud cover, but two, is a signal of great things to come for this list. While the top revenue earners stood out up above the clouds, those just lifting off from the ground also deserve credit, with the list's revenue threshold at $6.5 million, the highest it's ever been.
While the common trait is rising growth on this list, there are many different paths taken to achieve it. Yet there's one thing they all have in common — partnerships. Whether it's bootstrapped startups that see the opportunity to combine forces, a nonconformist franchisee that seeks a new direction with former clients, or a mega-acquisition that propels a new name into the stratosphere with a blast of fire, the channel couldn't grow without forging important partnerships. What should those collaborations look like exactly? Well that's as individual a choice as the colors on your balloon.
The information for this study was drawn from surveys completed by solution providers between January and March 2019, with revenue numbers based on calendar year 2018. The survey information was collected by CDN and verified by IDC, the premier provider of market intelligence and advisory services for the information technology, telecommunications, and consumer technology markets.
Total revenue for the 2018 Top 100 Canadian Solution Providers was $9.7 billion, up 5.5% from $9.2 billion in 2017. The growth was fueled largely by the Top 10, up 14% over the previous year and accounting for about 60% of the total revenue. With both Softchoice and CDW Canada generating over $1 billion, it was necessary to add a new revenue range. At the other end of the spectrum, a new revenue threshold of $6.5 million was established to include the many providers who made the cut.
2018 saw CDW and Softchoice switch places, with Softchoice taking top spot to displace CDW. Compugen, Compucom and OnX once again round out the Top 5. Consolidation among the leading service providers remains unshakeable from year to year. With a few notable exceptions. In 2018 there were two new entrants to the Top 15: Informatique Pro-Contact landed in 12th place, a jump from 26th in 2017, and Convergint Technologies ranked 14th, up from 22nd.
Last year also saw multiple mergers and acquisitions. CompuCom purchased Grand & Toy; CareWorx purchased Fully Managed, Broadview Networks was purchased by Windstream and CDW purchased Scalar.
We also asked for a revenue breakdown by sources. This reveals a slightly different picture of channel activities, showing that while managed services are indeed an important factor, hardware and software resale still account for a big portion of revenue. Here, we also see that reselling public cloud services is an up and coming area of revenue generation.
Hardware and software resale (47%)
Managed services (26%)
Professional and support services (24%)
Software built by your firm (19%)
Public cloud resale (10%)
The top five cloud infrastructure and platform providers sold through the channel in 2018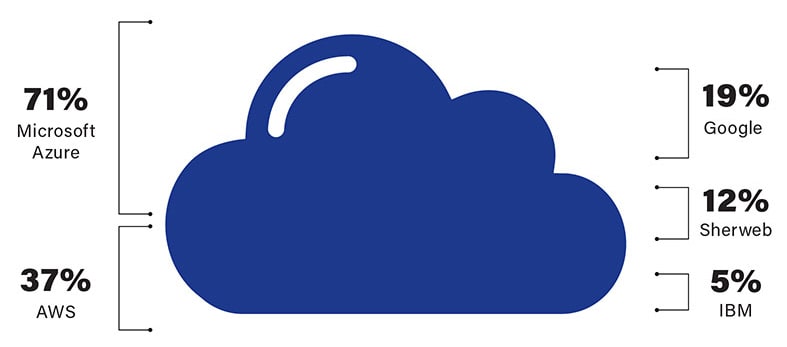 The Top 20/100 Solution Providers