Insights BI by Dropsuite is an email analysis tool that comes free with Dropsuite Email Backup and Archiving.
Dropsuite introduced Insights BI as a free add-on to its already powerful suite of Email Backup and Archiving services.
Insights BI provides a robust email analytics toolset for organizations who seek to transform stagnant, archived email data into actionable business intelligence. Dropsuite Insights BI turns complex and extensive email data sets into simple, actionable reports, graphs and charts.
Insights BI by Dropsuite answers questions such as:
Which staff are efficiently managing emails, and which are falling short?
Which recipients are being sent emails/attachments & at what frequency?
Are there employees who are exhibiting unusual email behaviors?
What process issues are revealed by analyzing patterns of usage?
For teams involved in supporting customers, how much time goes by before support contacts customers, and resolves their issues?
List of Insights BI Email Reports
There are a variety of easy to use reports that can immediately help identify patterns of email usage. The list includes:
This report provides visual graphs that can clearly highlight unusual highs or lows in email volume. Patterns of unusual use are instantly obvious and can be followed-up on with ease, helping to identify and correct any potential process or systems issues causing spikes in activity.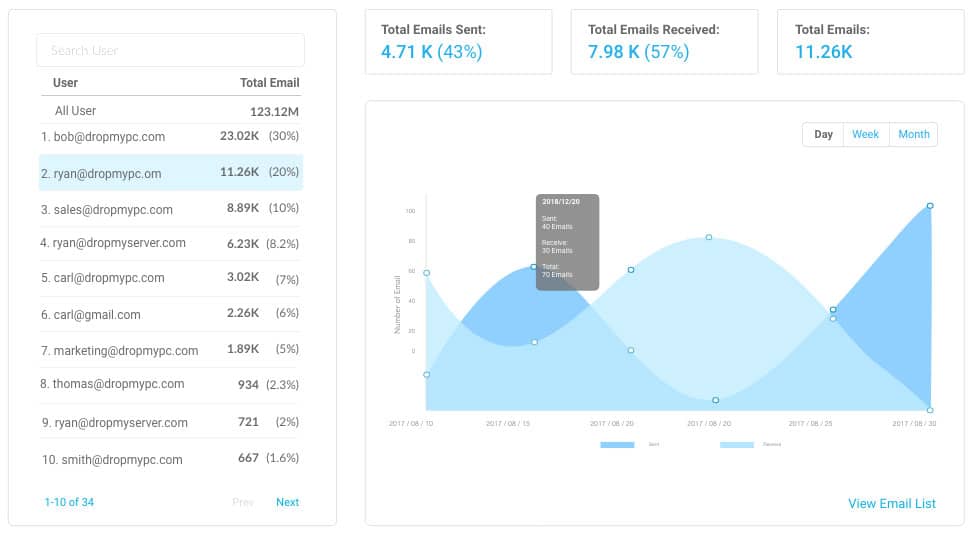 Email Storage Utilization
Data from this report is extremely helpful for evaluating how much data is being stored over a given period of time. This is valuable for firms with limits on storage either at the business, division or individual levels and can help identify if and when additional storage may be needed well in advance of running low.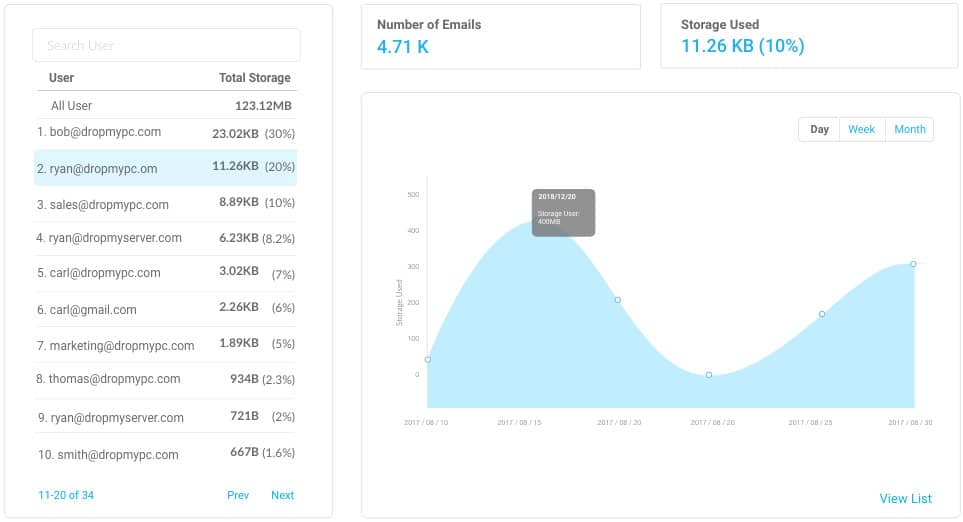 Top Contacts Identification
Many business administrators want to know who on a team is being overwhelmed, or underwhelmed, with email. This data instantly helps identify who may be contacted, by how much, and with what type of data. Analysis can reveal if processes or procedures need to be modified to improve performance.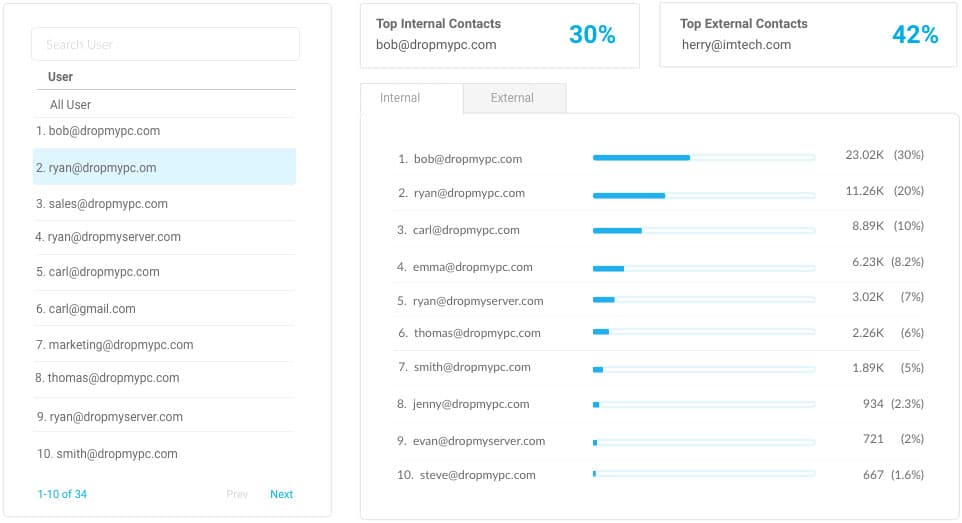 Attachments by Size and Number
This report is an excellent tool for evaluating quantity and size of attachments from a global down to an individual level. Large attachments can cause strains on any email system. Knowing how many and how large attachments are is helpful for identifying if process improvements or training are required to reduce large attachment usage.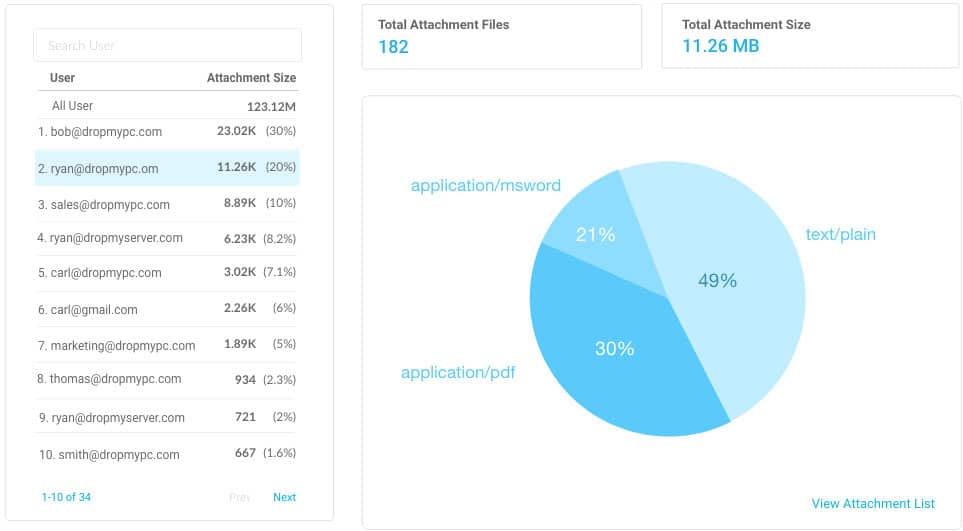 One of the most powerful sets of data is the Time Sending Emails report. Learn the amount of time sending emails occupies in a group or individual's day. Patterns of unusual activity are an easy way to learn if spammers or hackers are using email systems to surreptitiously send illicit messages.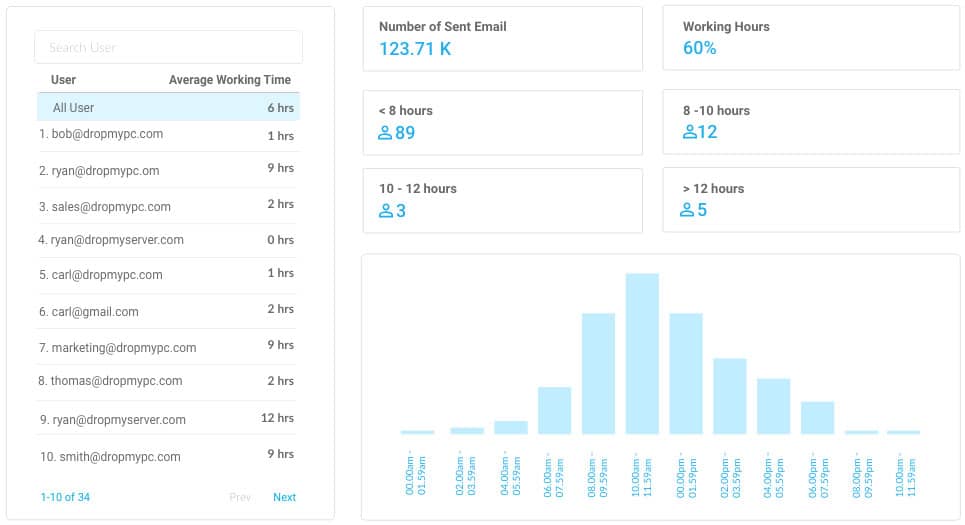 This report is a powerful and effective tool for evaluating how long it takes for groups or individuals to respond to their emails. This is especially powerful and useful information for support teams, where response time is a critical KPI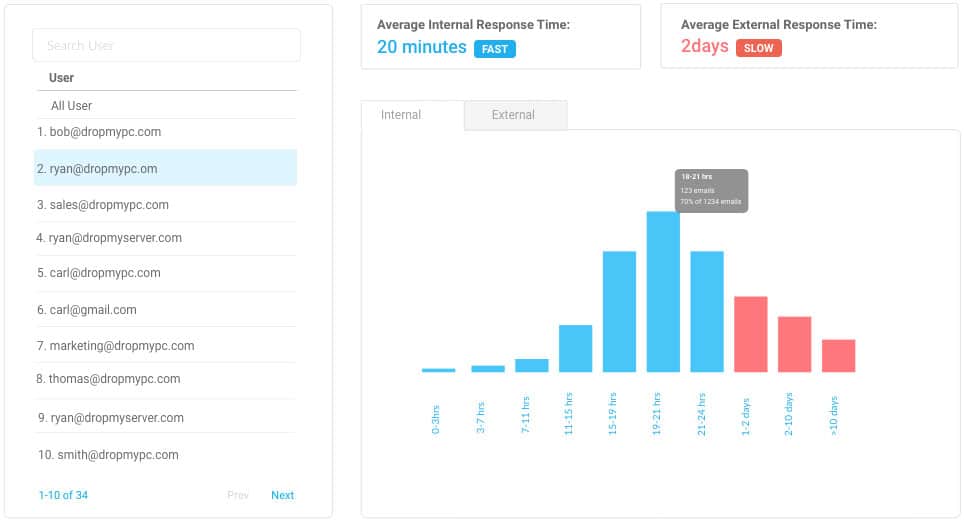 Top Senders and Recipients
Another really helpful report, this one is beneficial for identifying users who are sending or receiving either too much or too few emails vs the norm. Using this report, business administrators can easily identify overworked or underperforming users who may need help, or training, to improve performance.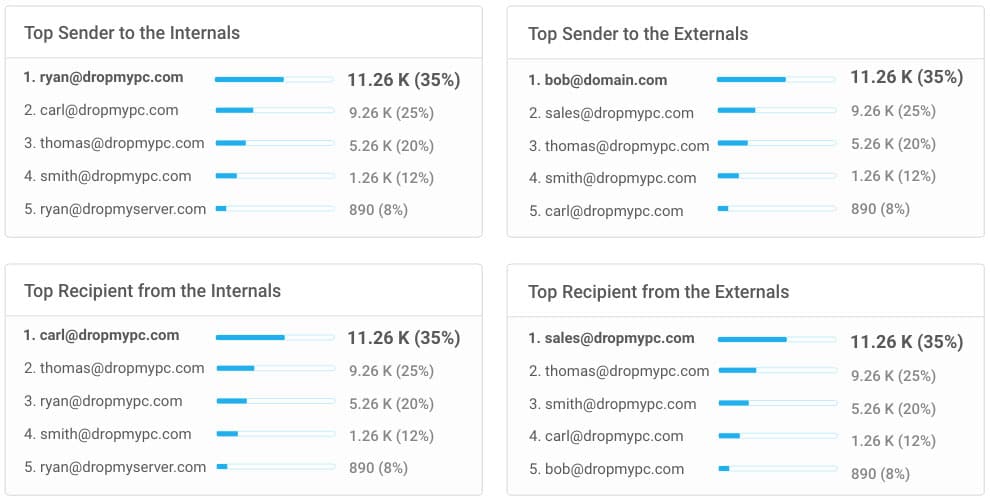 All of the above reports are extremely easy to customize. This includes the ability to drill down deeper into individual data sets, looking for specific email usage patterns even at the individual level.
In addition, Insights BI reports include the ability to set custom time and date ranges, as well as setting reporting level from the entire firm down to a unique individual
Improving Business Productivity Through Email Insights
The primary purpose of using email Insights BI reports is to improve business productivity. The ability to easily find patterns of poor email utilization can help identify potential business process improvements
The ability to improve productivity cannot be underestimated. Email is a one of the most heavily used tools of any business. The ability to help the organization better use email by being more efficient and effective is the key to potentially significant productivity increases
Contact one of our Dropsuite Email Backup and Archiving experts who can provide more information plus give you a demo of our best-in-class solution.
Or, call us anytime: US +1-408-780-2106 or International +65 6813 2090