Dropsuite CloudFest 2018 Survey Results Reveal Surprises
The Dropsuite Cloudfest 2018 Survey results are in, and they reveal some interesting surprises! At this year's amazing CloudFest 2018 conference in Rust, Germany we walked the trade show hallway to gather opinions from many leaders in the industry.
We surveyed 148 attendees who included leaders in industries including:
Hosting
Managed Services Providers (MSPs)
VARs
Telcos
Distributors
And many more
Our goal was to learn what is on the minds of the leaders in the hosting, VAR and related IT industries. We also wanted to know what they felt the future held for them, and for the industry as a whole.
Survey topics covered by the survey include GDPR readiness and costs, current and future value-added services being sold, business-calibre email being sold, the primary causes of email data loss, as well as the future of web hosting.
GDPR (General Data Protection Regulation) was top of mind for many conference attendees. With the May deadline quickly looming attendees had many questions and concerns about future potential impacts to their businesses.
But we didn't stop there, we also gathered and analyzed many data points to arrive at some interesting findings. A few of those findings were rather surprising to us.
There were other concerns attendees noted. We have a sneak peek of the results below. But for the complete results and our analysis click here to download your copy of the complete Dropsuite CloudFest 2018 Survey results
Sneak Peek Into 3 Key Dropsuite CloudFest Survey Findings
Among the very interesting results of the Dropsuite CloudFest 2018 Survey there were three we wanted to bring to attention:
First. There's an apparent disconnect between the reported GDPR readiness of organizations and the vendors that support them. This has dangerous and potentially business-threatening implications for firms.
Second. Costs associated with compliance of GDPR are high. For many of the survey respondents these costs are greater than 6 figures. This extra expense could come back to haunt firms that already have very tight IT budgets.
Third. Besides GDPR worries, respondents are focused on potential product disruptions on the horizon. Cloud services plus an array of new and diverse value-added products are being considered which could dramatically alter the landscape of services sold.
There are even more additional key findings in the report. But let's focus on each of the above and explore the issues and opportunities they present in a bit more detail.
For the complete report request your copy of the Dropsuite CloudFest 2018 Survey Results and see the entire report!
GDPR Disconnect between Organizations and Vendors
The GDPR Disconnect between organizations and their vendors was a surprise finding from this year's Dropsuite CloudFest 2018 Survey.
Among the survey participants, an overwhelming three quarters (76.2%) said they felt their firms were on track internally for GDPR compliance. That's good news as the GDPR rules stipulate that all firms must be compliant by the May 2018 deadline.
However, the big surprise is in their response to the next question, which was, "Will your vendors be GDPR compliant by May 2018?" Only 58.3% (slightly more than half) said they felt their vendors would be ready.
A chain is only as strong as its weakest link.
The danger in vendors not being compliant is simple. Whether a breach happens internally or through a connected third party there are requirements for notifications and responses to the breach. In GDPR terms, the vendor becomes an extension of your firm. There is a real business threat to your business through non-compliant partners who have access or are storing your EU users' data.
And what's the danger? Penalties for non-compliance can range up to 4% of revenue, a cost that could put many firms out of business.
So what does it all mean? There is a significant disconnect between perceived readiness of businesses and their partners. Anyone associated with IT, user data or partners who have access to that data should ask serious questions to their vendors.
Costs Associated with GDPR Compliance
Another surprise in the Dropsuite CloudFest 2018 Survey was the cost associated with GDPR compliance. About two-thirds (67%) of respondents reported the cost of coming into compliance was less than 100,000 Euros. However, a surprising one third reported costs greater than 100,000 Euros. And the shocker, 8.7% said their costs were greater than one million Euros! That's almost one in ten reported businesses with significant costs for compliance!
This cost of more than 100,000 Euros is most likely not something businesses can easily write off. It's a reminder that the true cost of business is managing and protecting data.
Going forward, most businesses would be smart to provide for on-going budget to ensure compliance, and to update their processes as necessary.
Potential Product Disruptions on the Horizon
Besides GDPR, another worry many attendees and our survey respondents mentioned was the quickly changing product landscape for MSPs. Specifically, needing to stay current with the many new potential product disruptions on the horizon.
When asked, "What new value-added services do you intend to sell in the coming 12 months?" responses varied, but generally broke down into several significant areas. High on the list was cloud services, security, backup, data management and interestingly virtualization services, among many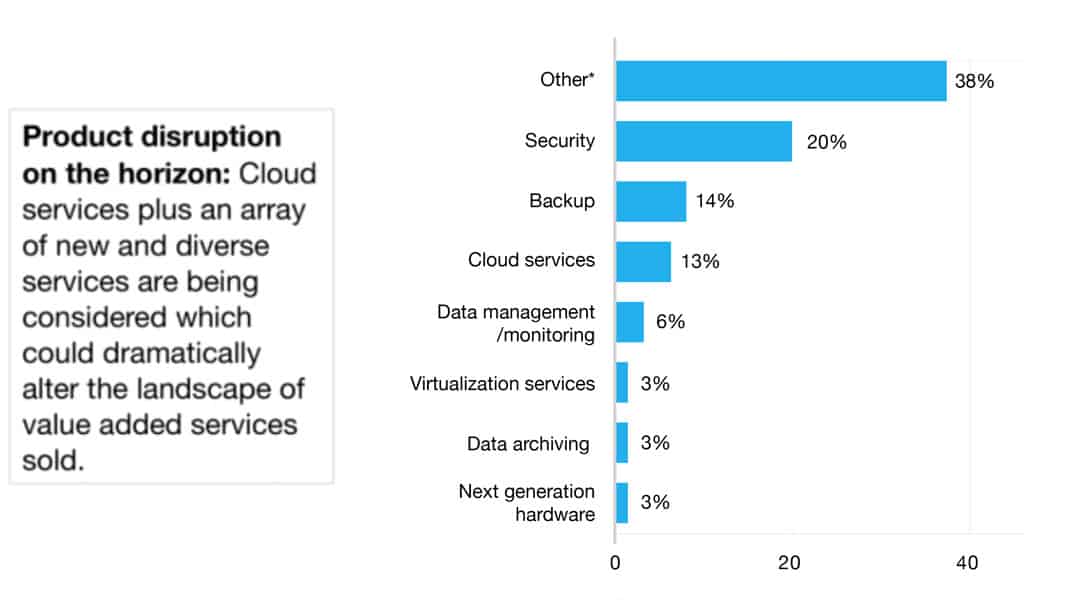 The significance of this is that MSPs must be good at much more than just managing basic services. The marketplace is requiring MSPs to become specialists in a broad array of sophisticated add-ons that provide value to their customers. Failure to match what other MSPs offer coupled with the relatively easier ability to move cloud-based services from one MSP to another places more pressure on each MSP to produce.
Many Other Results in the Dropsuite CloudFest 2018 Survey
To learn about the many other results in the Dropsuite CloudFest 2018 Survey request your free copy of the results. You'll see the complete data, charts, graphs and analysis that may surprise you. And the data gathered will be very helpful for enabling you to set your own priorities as you grow your business.